Listening to Radio 4 on the radio today, unsurprisingly heavy with articles about the Olympics. Now, as the Games start, there appears to be a new phraseology being used – that the site of the Games was a "barren wasteland" or an "empty brownfield site".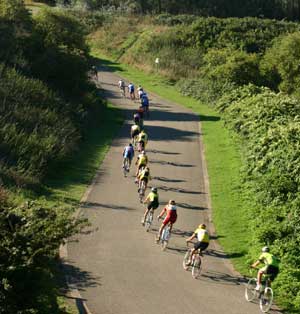 This will come as news to the many people who enjoyed the area before the bulldozers came in. For example, the Eastway Cycle Circuit – a 1 mile public cycle circuit, built in the 1970s, and set in parklands, now replaced by the Velodrome. Does this look like a wasteland to you?
Then there were the Manor Gardens Allotments. Established for over a hundred years, with some of the allotments passed down through families, Manor Gardens consisted 81 allotment plots over 4.5 acres of land, used by ordinary people to grow their own produce. This was not a muddy patch of ground with some caulies growing in them; Manor Gardens had mature (and fruiting) olive trees, grape vines, and a thriving gardening community.
Despite protest from the allotment owners and local communities, the occupiers were evicted and the allotments bulldozed in 2007. The occupants have since been offered a variety of sites, all temporary. After much debate, including discussion in Parliament, it has been grudgingly acknowledged that the site will be returned to allotments after the Olympics. Of course, the community will have become fragmented by then, and they will be starting from scratch, with decades of hard work destroyed.
But surely this was done for a good reason? The allotments were in the way of one of the venues? No. They were bulldozed to make way for a large grassy bank and a footpath between the venues.
In addition to the above examples, the whole area provided valuable habitat for wildlife, including birds, butterflies, newts and voles. Not to mention bees.
Perhaps we needed to move forward. Perhaps development of the area is going to provide new opportunities and facilities in the area. Perhaps. But don't say it was a "barren wasteland" before the Olympics came, because that is just a lie.